Nancy Wesolek-Sterrett: Head of Dressage Dept / Instructor at Meredith Manor Equestrian Centre

Nancy is a Riding Master VI graduate of Meredith Manor, a Certified Riding Instructor and a Certified Equine Sports Massage Therapist. She holds an RBA Degree with an Emphasis in Equestrian Studies from WVU-P. Following graduation, Nancy toured the U.S. and Canada as a rider for the Royal Lippizaner Stallion Show. Before returning to teach at Meredith Manor, she owned and operated South Wind Stables providing training, clinics, lessons and summer camps.

Since Nancy's return she has accumulated numerous USDF horse awards including having earned her Bronze and Silver Medals on horses she trained. Her horses have repeatedly scored in the top three places regionally. They are now competing from Training Level through FEI levels. Nancy was selected to ride in the 2000 USDF National Dressage Symposium with Walter Zettl. Nancy has also trained both horses and riders for the North American Young Riders Competition. Nancy is the Head of the Dressage Department at Meredith Manor.

Over the last couple of years Nancy has written a number of articles on riding that have been published by numerous on-line equine publications.

In 2010, Nancy placed 6th in the nation at Training Level Dressage USDF Horse of the Year Awards with her four year old Hanoverian, Rhommulas.

About Nancy Wesolek-Sterrett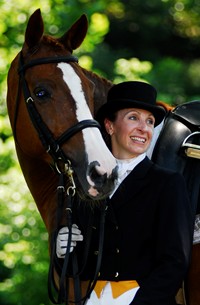 Hidden Oak Sport Horses

Nancy Wesolek-Sterrett